【奥貫史子 Ayako Okunuki】Violinist / Fiddler
Graduated from the Toho Gakuen High School Music Department and has earned a Bachelor in Music Performance from the Toho Gakuen School of Music. Has been taught by such notable musical instructors such as Mihoko Takada, Attila Szabó and Takeaki Sumi. She has received several awards at music competitions, such as at the All Japan Junior Classical Music Competition, where she received the Juror's Special Prize, the Legacy Competition, where she received First Prize in the Ensemble competition, the Gold Prize and the Yamaha Prize. She entered the Canetti International Violin Competition in Hungary where she received Second Prize in the ensemble competition and Fourth prize in the solo competition. She has traveled to Ireland to learn the traditional music there. After returning to Japan, she formed the Chieftains tribute band, the Lady Chieftains, recognized by the original Chieftains band. She has also performed and collaborated with the likes of the Chieftains and many other traditional artists both internationally and within Japan. She has performed in venues as diverse as the Irish Embassy in Tokyo and the Japanese Prime Minister's Official Residence. She formed the three-person unit, KOUCYA, formed from members of the Lay Chieftains, which has released their first album.
In 2019, Yuki Kojima Band, the specially formed band in which she participated as a guest member, won in the Celtic music competition at the "Festival de Ortigueira 2019" in Spain.
She has also participated in several recordings, such as with Noriyuki Makihara, the Funky Monkey Babys, flumpool, and for TV commercials such as for Black Nikka Whiskey, soundtracks for the Japanese drama series "Doctors: The Ultimate Surgeon", "Ultimate Zero" and the animated series "Blood Lad", as well as Mitsuda Yasunori's soundtrack for the animated feature film "Black Butler: Book of the Atlantic". She participated in festivals and workshops while traveling around Canada, learning new Celtic fiddle styles such as those of Prince Edward Island and Cape Breton Island, as well as the Franco-Quebecois style, which involves foot percussion played simultaneously with fiddle playing. At present, she plays solo, ensemble and orchestra concerts, as well as various events such as music festivals. She mainly plays Classical and Irish music, as well as having an active teaching career.
【奥貫史子 Ayako Okunuki】Violinist / Fiddler
3歳よりピアノ、5歳よりヴァイオリンを始める。桐朋女子高等学校音楽科、桐朋学園大学音楽学部演奏学科卒。
これまでにヴァイオリンを高田美穂子、アティラ・ザ―ボ、鷲見健彰の各氏に師事。TIAA全日本クラシック音楽コンサート出演。全日本ジュニアクラシック音楽コンクール審査員特別賞受賞。レガシィコンクール、アンサンブル部門第1位、金賞、ならびにヤマハ賞受賞。ハンガリーにてカネッティ国際音楽フェスティバル参加、アンサンブル部門2位、ソロ部門4位のディプロマ取得。
伝統音楽を学びにアイルランドへ留学。帰国後、チーフタンズ公認トリビュートアイリッシュバンド「LADY Chieftains(レディーチーフタンズ)」を結成。国宝級アイリッシュバンドのザ・チーフタンズをはじめ、国内外のアーティストとの共演やアイルランド大使館、総理公邸にて演奏披露する。レディーチーフタンズのメンバーからなる3人編成のユニット「KOUCYA」も結成し、ファーストアルバムをリリース。
スペインで開催されたFestival de Ortigueira 2019のケルト音楽コンテストで、メンバーとして参加したYuki Kojima Bandで優勝。
これまでに槇原敬之やFUNKY MONKEY BABYS、flumpool等のアーティストのアルバムや、 テレビコマーシャル「Black Nikka Whisky」、作曲家・林ゆうき氏が音楽を手掛けたテレビドラマ「DOCTORS~最強の名医~」や「絶対零度」、アニメーション「ブラッドラッド」等のサウンドトラックや、光田康典氏の手掛けた劇場版「黒執事Book of the Atlantic」の劇中音楽等、レコーディングにも多数参加。
アーティストのバンドサポートとして、クレイユーキーズ、また平昌オリンピックの開・閉会式の音楽監督を務めた、日韓でご活躍のピアニスト、作曲家、プロデューサーの梁邦彦氏の韓国公演シリーズコンサート等に参加。
現在、幅広いジャンルでライブコンサートやフェスティバル等イベントライブに多数出演し、クラシックはソロからオーケストラまで、ケルト音楽はアイルランド、スコットランド、ケープブレトン等の音楽を奏で、またカナディアンスタイルのステップダンスや、タップをしながらフィドルを弾くケベックスタイルも身につけ、踊るフィドラーとしても活躍中。後進の指導にもあたる。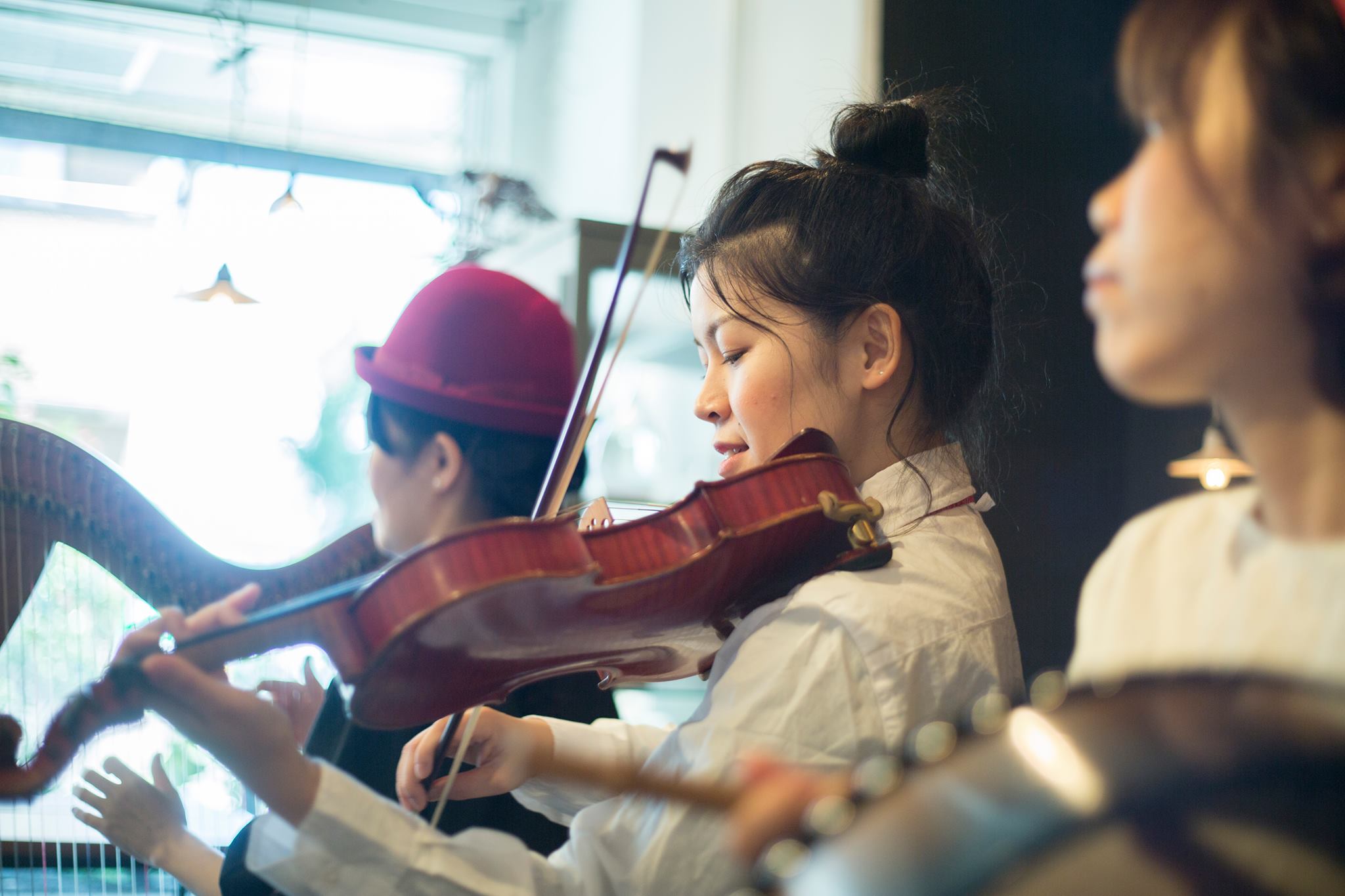 KOUCYA
"KOUCYA" Original Celtic music Unit